When buying a garage door, there's always a lot to consider. For many of our customers, one of the biggest things they look for in a new garage door is value for money. In this article, we will be weighing up the pros and cons of buying a cheap garage door versus a higher cost garage door so that you can choose the best option for your needs.
Roller Doors [Cheaper Option]
If you are looking for a reliable garage door at a great price, look no further than the classic roller door. Typically, roller doors are usually the cheapest option for those seeking out a new garage doors, however this lower price does come with some limitations that you need to keep in mind.
Pros Of Buying A Roller Door
✔ Lower Cost
If you are looking for cost efficiency, then a roller door is the option for you. Roller door prices are typically lower than other options on the market without sacrificing durability. 
✔ Fewer Long Term Repair Costs
Roller doors have less moving parts than panel doors and other variations of garage doors, which allows them to be priced cheaper. Having fewer moving parts also means that there is a reduced need to repair your garage door in the future, which can allow you to save on repair costs years down the track. 
✔ Rolls Directly Up, Freeing Space In Your Garage
A benefit of having a roller door is that the way they open up frees a lot of space in your garage. The rigid steel curtain of the roller door will coil up directly above the opening of your garage, which allows for more headroom throughout the garage which can be used for additional storage. 
Cons Of Buying A Roller Door
❌ Requires A Large Amount Of Headroom
While roller doors free up head space throughout the garage, they also require quite a lot of headroom above the door opening to be set up. A single roller door requires a minimum amount of 450mm of space above the garage opening, while a double door will need a minimum of 550mm. If you are unsure about whether a roller door will be appropriate for your garage, call Best Doors for a free measure and quote. 
❌ Very Limited Customisation Options
Roller Doors have a very basic profile and will typically all look the same. This means you will not be able to customise the design to match or accentuate the look of your house. Various colours are available however, but you will only be able to select from the Colorbond range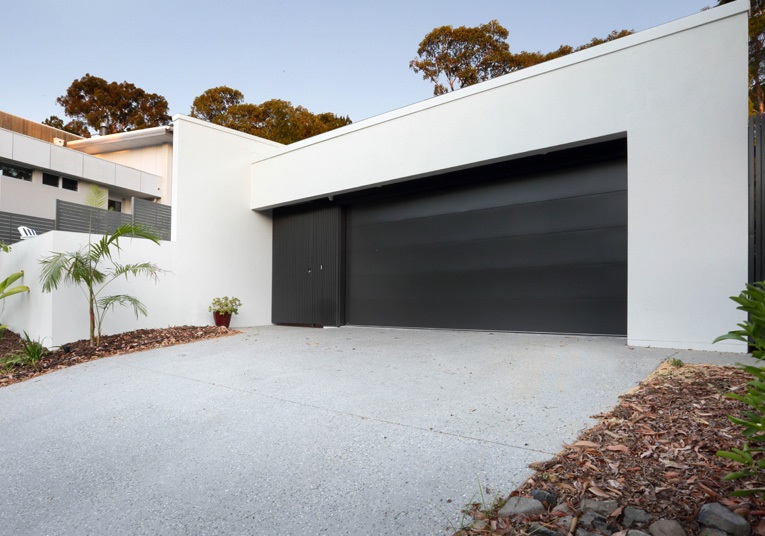 Panel Doors [Higher Cost Option]
For a more customisable and modern looking garage door, a panel or sectional garage door is the way to go. While these do typically come with increased costs, there are plenty of reasons why a panel garage door might be best for your needs. 
Pros Of Buying A Panel Garage Door
✔ Significantly More Design Options
Unlike roller doors, a panel garage door can come in a significant number of variations. Ranging from various design options, natural timbers, powder coats and more, the extra cost of a panel garage door may be worthwhile if you have a specific design in mind. 
✔ Less Headroom Required
A panel garage door requires just 200mm of headroom, making it a more viable option for those with reduced space. 
✔ Finger Safe Options Available
No one wants to think about hands getting caught in garage door mechanisms, which is why we stock a range of finger safe garage doors. This is especially worth considering if you have small children who love to touch everything they see. 
Cons Of Buying A Panel Garage Door
❌ Track System
For some people, the track system of the ceiling of their garage can look unsightly. It also means that it slightly reduces the headroom above your car, which may not be appropriate for particularly large vehicles. 
❌ Parts More Costly To Replace
Panel garage doors have more moving parts than roller doors, meaning that there is potential for replacements in the future. 
What Garage Door Should I Buy? 
At the end of the day, the choice of which garage door to buy is up to you. Decide what you value most, whether that be cost efficiency, design or functionality and use that to make a decision that best suits your needs. 
If you're still torn on what to do, get in contact with one of our friendly staff at Best Doors and we can have an expert technician come to you to discuss the best option for you.