Like many Australians, car storage may be just one of several ways you use your garage. Record-high real estate prices and rising renovation costs has made living space an increasingly valuable and scarce commodity. Because of this, many homeowners have turned to their garages for a simple and affordable way to expand their property's living area.
How many of us have a home-gym, office, or entertaining space in the garage? The garage come man-cave is practically an Aussie icon, with blokes spending hours tinkering and toying in their own special garage space.
A problem with this arrangement, however, is that garages often become very cold in winter and very hot in summer. This can make your garage uncomfortable fast, especially if you're entertaining or working from home. Using electric plug-in heaters or coolers is one solution, but they can be ineffective and expensive to run.
A better way to mediate the temperature of your garage is with an insulated garage door. An insulated garage door helps to keep your garage cool in summer and warm in winter, while also saving you energy and money.
How garage door insulation works
Old garage doors are poor at containing heated and cooled air. An un-insulated door with the usual nooks and small openings will leak air conditioned air almost as fast as it can be replenished. Insulated garage doors are different.
Insulated garage door panels are filled with an energy-efficient thermal break, which separates the panel's interior and exterior skins. This reduces thermal transmission, and that helps to keep cooled/heated air in and hot/cold air out.
The gaps between the door, its frame and its panels are also sealed. This prevents 'air migration', or air from leaking in or out of your garage via gaps in your door's construction.
Thermal barriers are usually constructed from two metal layers with a solid expanded polystyrene (EPS) core, although some models may differ. Speak to your garage door supplier for exact product information.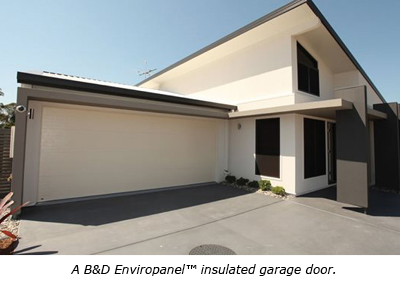 "An insulated garage door helps to keep your garage cool in summer and warm in winter"
Why you should consider garage door insulation
The main benefit of installing a new insulated garage door is comfort. Put simply, insulation helps to heat and cool your garage. So if you're freezing while working in your garage in the colder months and sweating like crazy in the warmer ones, insulation can help with that.
Another benefit is that it saves you money on your energy bill. An insulated garage door helps to prevent heated and cooled air from leaking out of your garage. It also helps to prevent outside air from coming inside. This in turn keeps your garage warmer or cooler for longer, with less energy required to keep it at a consistent temperature.
Plus, because your energy bill is lower, so too is your environmental impact. Insulation is one of the most energy-efficient ways to mediate the temperature of your home. Greater energy-efficiency means a lesser carbon footprint.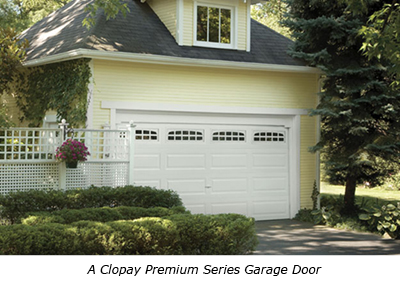 Insulating for noise control
An insulated door also assists in preventing noise from entering and exiting your garage. This makes it a good option for those who have a garage band musician in the family.
The polyisocyanurate (PIR) thermal core provides a solid sound-insulating barrier with good acoustic qualities. This makes insulated garage doors much better for containing sound and noise.
So whether you're using power tools on a woodwork project or blasting the stereo in your man-cave, you can do so in peace, knowing you won't be interrupted by complaints from family-members or neighbours.
"Insulated garage doors are much better at containing sound and noise."
Installing your new insulated garage door
Having a new garage door installed shouldn't be difficult or inconveniencing. At Best Doors we provide on-time, no-fuss service. So once you've chosen your new insulated garage door we can install it for you promptly and properly.
All of our installations are backed by our 120% Satisfaction Guarantee, which ensures the best quality service. If you're not completely satisfied, and we can't make good, we'll give you 120% money back. Your money back, plus an extra 20%. That's our 120% Satisfaction Guarantee.
For a free, no-obligation quote contact one of our friendly staff today.